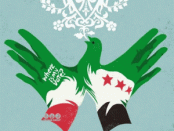 Por Joseph Daher*
Reach out and contact these groups, individuals and websites to help Syrians who are still fighting for justice and human rights.  This is a long list.  Please scroll down to the end and past the graphics.
Al-Jumhurriya website,  Yassin al- Haj Saleh, Karam Nachar, Yassin Swehat
Women Now for Development: feminist organisation led by Samar Yazbeck
http://www.women-now.org/about-us-2/
Syrian Women Network
White Helmets Humanitarian Organisation
http://whitehelmets.tumblr.com
Raed Fares, Kafr Nabl
https://twitter.com/raedfares4?lang=en
Radio Fresh Kafr Nabl
https://www.facebook.com/Radio.Fresh.90.00FM/?pnref=story
Syrian Women for the Syrian Intifada – SANAD
https://www.facebook.com/Syria.SANAD/
The Working Group for Syrian Detainees
https://www.facebook.com/SyrianPoliticalDetainees/
Kurdish Arta Radio in Amouda
https://www.facebook.com/artaradio/?fref=ts
http://artafm.com/sites/default/files/About%20ARTA%20FM.pdf
http://www.kurdistan24.net/en/Analysis/b2cd5731-94cf-4181-94bf-debfa4208992/Syria%E2%80%99s-first-Kurdish-radio-station-burnt
Kurdistan 24
http://www.kurdistan24.net/en/ContactUs
Kurdish-Arab Fraternity Coordination Committee in Aleppo
https://www.facebook.com/SyriaBirati
The Fraternity (Birati) Foundation For Human Rights (Kurdish association)
http://fraternity-sy.org/en/embed/#?secret=CGA2yd5Iy4
http://www.syriauntold.com/en/work_group/kurdish-arab-fraternity-coordination-committee/embed/#?secret=wnPeRPcerG
Kurd Watch, reports on Human Rights violations against Kurds in Syria
Yekiti Media (Kurdish)
https://www.facebook.com/Yekitimedia/
The Creative Memory of the Syrian revolution
http://www.creativememory.org/?lang=en
SMART NEWS
Kesh Malek, activist group with Marcell Shehwaro, executive director
http://reliefweb.int/organization/kesh-malek
https://www.facebook.com/kesh.malek.syria
https://www.youtube.com/watch?v=r_TxsWn6ZeU
ANA Press
Inab Baladi (Local Grapes),
Souriatna
Violation Document Center in Syria
http://vdc-sy.net/Website/?embed=true#?secret=hteVCokS70
UOSSM Medical Activities
Razan Ghazzawi's blog
The Syrian Observatory for Human Rights          
Raqqa Is Being Slaughtered Silently           
Syria Deeply 
https://www.newsdeeply.com/syria
The Syria Report      
Syrian Network for Human Rights 
Break the Sieges        
Syrian Center For Policy Research
Citizenship Movement
https://www.facebook.com/CitizenshipMovementMouwatana/
Joseph Daher's blog, Syria Freedom Forever
http://www.syriafreedomforever.wordpress.com/
Leila al-Shami's blog
https://leilashami.wordpress.com/author/leilashami/
Revolutionary Left Current in Syria
http://revleftcurrentsyria.com
Budour Hassan's blog
https://budourhassan.wordpress.com
Nader Atassi's blog
Many Individuals and groups:
Mazen Darwish, Salameh Kaileh, Nahed Badawiyya, Shiyar Shiyar Khalil,  Shiyar Nayo, Ghayath Naissa, Akram Naissa, Yasser Munif, Marwan Othman…
Also see this list created by Ibraaz,  a forum on the Middle East and North Africa
http://www.ibraaz.org/publications/74
*Fuente: syriafreedomforever.wordpress.com.